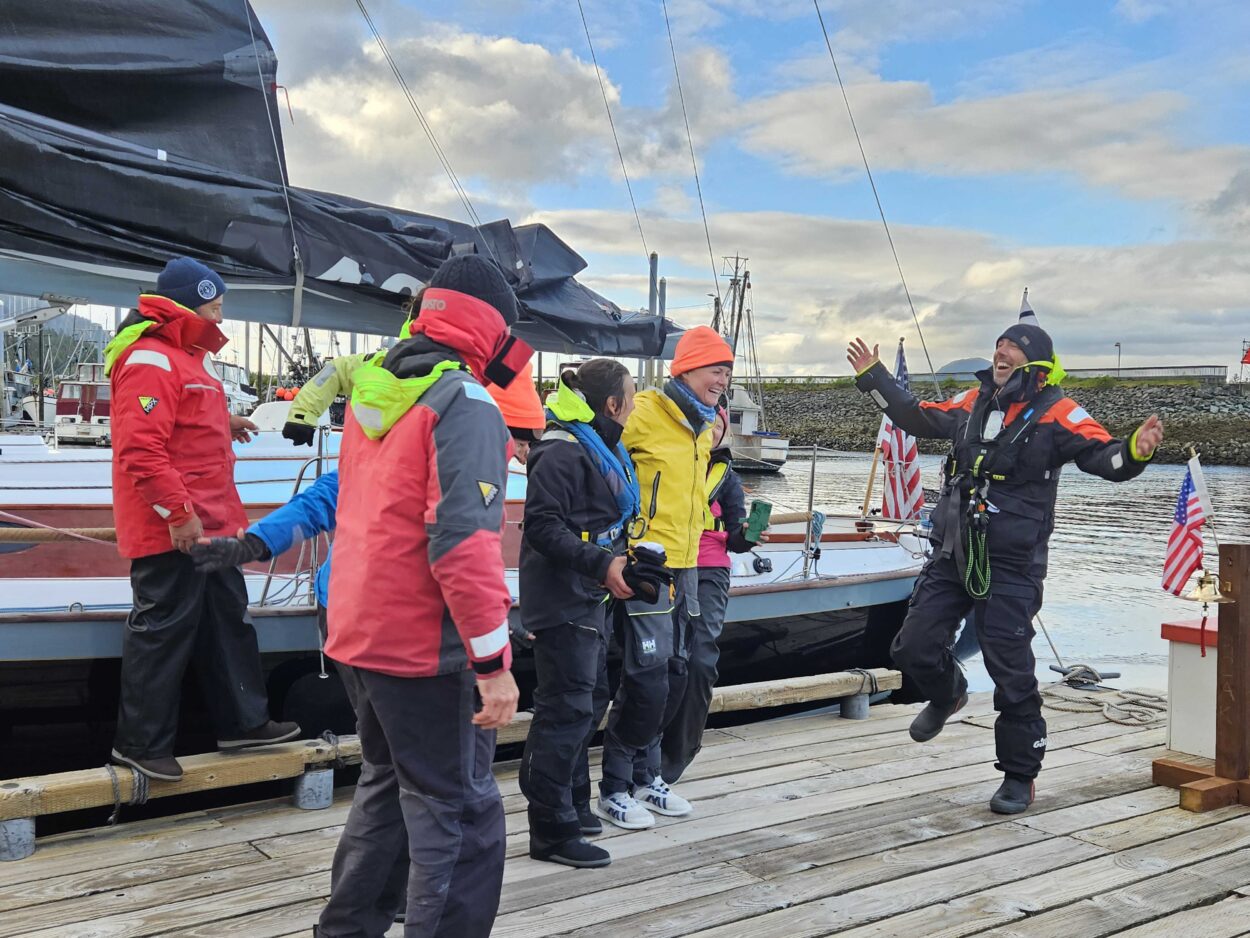 Alaska's annual no-engines-allowed boat race wrapped up this week. The Race to Alaska started in Washington at the beginning of the month, and 18 teams crossed the finish line in Ketchikan. KRBD caught up with the "race boss" for final impressions of the 2023 fleet. 
Even in a race — even on paddle boards and kayaks, or piloting pedal-powered boats in gusts and waves — the teams all forged a bond with each other. That's what "race boss" Jesse Wiegel said really stuck out to him this year.
"It's a funny thing," Wiegel said. "They're all generally  individual competitors on their own teams, but because they're sharing this experience, they're teammates now, and it's a wonderful thing to see."
Teams pushed through some harsh weather. Many vessels had to hunker down and wait it out. Wiegel said it's a big part of what bonded the teams.
"There was a three-day weather window where everyone had to hunker down in Johnstone Strait," he said. "And yet, they all got right back on the horse and just steamed their way up here as fast as they could."
29 teams set out from Victoria, British Columbia — the start of the main part of the Race to Alaska — and 18 made it to Ketchikan. The initial 40-mile leg from Port Townsend, Washington  serves as a "proving ground." It's the 710 miles to Ketchikan that really test those who remain. Last year, 41 teams were accepted into the race and 19 crossed the finish line.
"They pretty much all came out because of boat damage or, the fear of boat damage," Wiegel said. "A couple of them had some light injuries that forced them out."
Team Zen Again Dog, a one-person team homeported in the United Kingdom, was the first to tap out of the race. A wave washed over the kayak, and racer Robert McCall hurt his arm.
Another one-man team, Peter Allen of Sup N Irish, aggravated a shoulder injury. 
But there's just something about the race that keeps adrenaline-seekers coming back for another shot — at $10,000 if they're first, and even better, steak knives if they're second.
"Team Mojo, they told me that they just didn't have quite the right mentality going into it," he said. "And they're going to return with a better idea of what they're getting themselves into."
Team Dogsmile Adventure, a four-person crew on a trimaran, told Weigel they pushed their boat too hard and had to bow out. 
"For instance, Team Dogsmile Adventures — who unfortunately told me they pushed the boat too hard, started breaking stuff, they had to bow out — but they are already planning for the 2025 run. Gonna take one year off next year," Wiegel said.
The race organization's Grim Sweeper boat set out on June 22, tracing the race course and "tapping out" any boats that were still on the water. But Wiegel said the teams that crossed the finish line never lost their race mentality, even when they knew they weren't going to be first to the dock.
"They keep gunning for it, they know that they're in a race," he explained. "They don't lose that race mentality, just because the race has already been won. Because they're racing for who knows what reason, but they hold on to that to the very end here. And even the last, the last three or four teams that came in, you know, they told me as they stood there on the dock that they were motivating each other to keep pushing, because they knew they were still in this thing called Race to Alaska, and not just paddling on their own."
The first place finisher was We Brake for Whales, an eight-person sailing team on a Lyman Morse 40. Second place went to team Budgie Smugglers, five people in a catamaran.
Raegan Miller is a Report for America corps member for KRBD. Your donation to match our RFA grant helps keep her writing stories like this one. Please consider making a tax-deductible contribution at KRBD.org/donate.