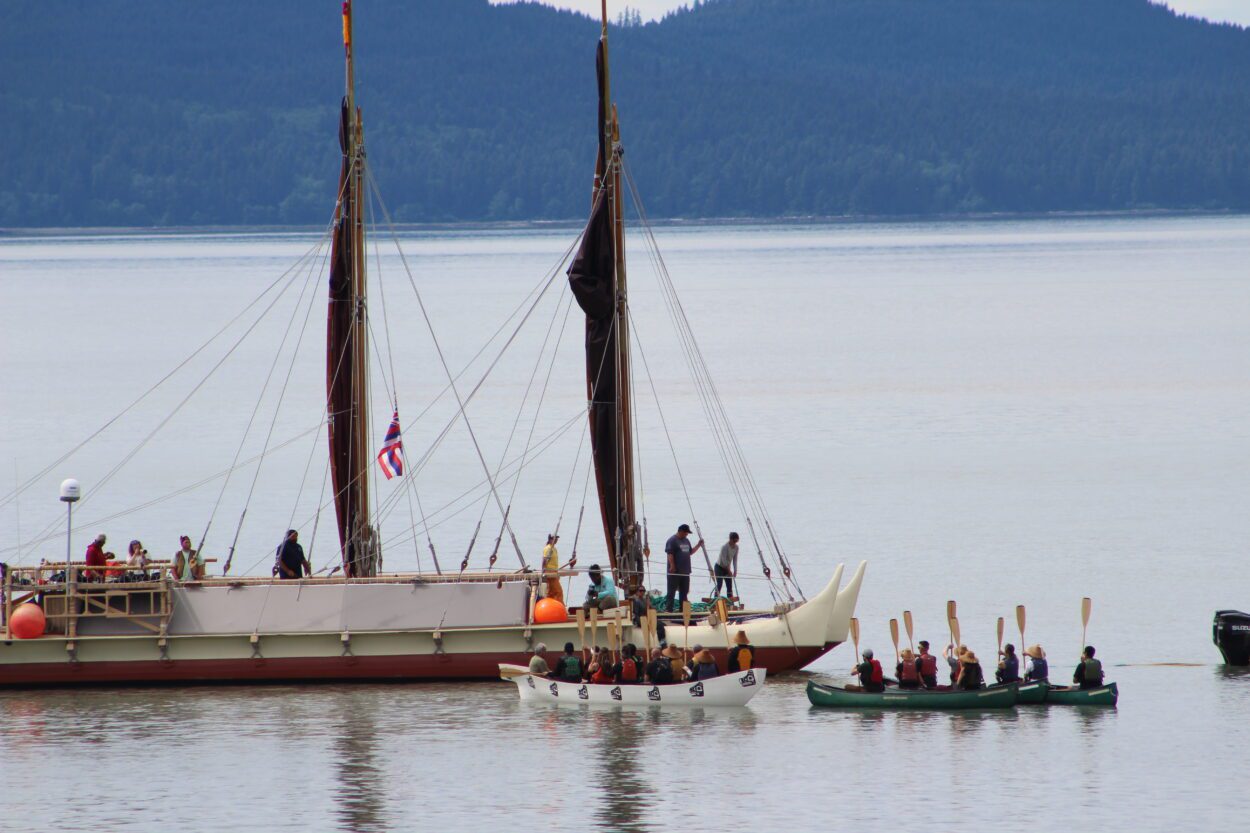 Communities throughout Southeast Alaska have been waiting and watching for the Hōkūle'a to arrive in their town. The double-hulled traditional voyaging canoe is on a years-long global journey with roots in Indigenous knowledge. But, how is the 62-foot canoe getting around? Once the canoe hits deeper waters, the crew will use traditional navigation techniques. 
The Polynesian Voyaging Society's Moananuiākea is all about a return to tradition — spreading care for the ocean, teaching and cultivating Indigenous knowledge, connecting with other cultures, and using traditional methods. 
Planetary navigation is a part of that. Lucy Lee is a Hōkūle'a crew member and a self-described "student of the canoe." Lee is from Papa'ikou, Hawaii, and has experience as an apprentice navigator on a different Hōkūle'a journey in 2021. She's onboard now  for the Juneau-to-Ketchikan leg of the Moananuiākea. 
"To me, voyaging in general, but also the navigation is just a testament to how ingenious our ancestors were," Lee said.
Part of what "non-instrument navigation" means is using something called a star compass. Lee said the head of the Polynesian Voyaging Society, Nainoa Thompson, created the version that's used on the Hōkūle'a after learning from a navigator from Micronesia named Mau Piailug. The navigator who taught Thompson had a version of the compass that was passed down through generations and from teacher to teacher. 
"So, the star compass represents a lot of things, but its main use is as a navigational tool to figure out where celestial bodies are setting and rising to determine where the canoe is heading, where the wind is coming from, where the tide is coming from, where the swell is coming from," she explained. "So it really is just like any other compass, it helps to align all of the things that we're observing so that you have a sense of direction."
Information from the Polynesian Voyaging Society describes the star compass as a "mental construct." Lee said it's something that exists within a navigator, but it can be used in a physical form to help teach people, too.
"So we do have, like, physical manifestations of that that we use to help explain to people," she said. "But for the navigator, they really do have so much information and knowledge within their own head. And so one of those things is just like being able to mentally picture and use the star compass."
There's a compass on the canoe, too, but it's not what most people would expect.
"The one on the canoe doesn't have any labels because depending on which direction the canoe's pointed, which direction the navigator's placed in, the orientation of the compass changes with the orientation of the canoe and the orientation of whoever's navigating," Lee explained. "But it allows you to see those distinct houses we call them, which are the eight sections within the four houses. Well, there's the four cardinal points and then seven sections within each quadrant."
She said the crew hasn't started to use those methods yet, but they will in time. After all, the journey lasts through late 2026, and Alaska is just the tip of the iceberg, with stops in Central and South America, Polynesia and Micronesia and the West Pacific before ending in Tahiti.
"As we've been beginning the voyage, there hasn't been a lot of what people probably think of non-instrumental navigation as, because of the safety of the canoe and  our crew," Lee said. "But when we get into some of the later legs of the voyage, there will be a lot of focus on the teaching of that, and the use of that as we navigate deeper waters."
Right now, the crew is relying on technology, along with locals and other helpful people on the water. They'll turn to traditional wayfinding in deeper waters.
For Lee, gearing up to use these traditional methods is just another way to feel closer to her ancestors. It's a special experience that reminds her of the resilience and wisdom of the Indigenous navigators who came before her.
"You know, I think voyaging is one of the traditional practices or traditional things that we do that we feel like we're doing exactly what our ancestors did," she said. "I think there's been a lot of growth and a lot of change to the past, like the original practices that our ancestors did, especially with, you know, cultural loss and colonization and just the struggle of trying to keep these things relevant and alive."
And when she's on the canoe, Lee said that a breeze or a drop of rain can remind her that one of her ancestors was in the exact same spot, years ago.
The canoe just made it through the Wrangell Narrows on Thursday. They're set to leave Wrangell Friday morning and make it to Ketchikan later in the afternoon. Then, they'll touch Metlakatla before making it to Hydaburg — the last stop in Alaska.
Raegan Miller is a Report for America corps member for KRBD. Your donation to match our RFA grant helps keep her writing stories like this one. Please consider making a tax-deductible contribution at KRBD.org/donate.