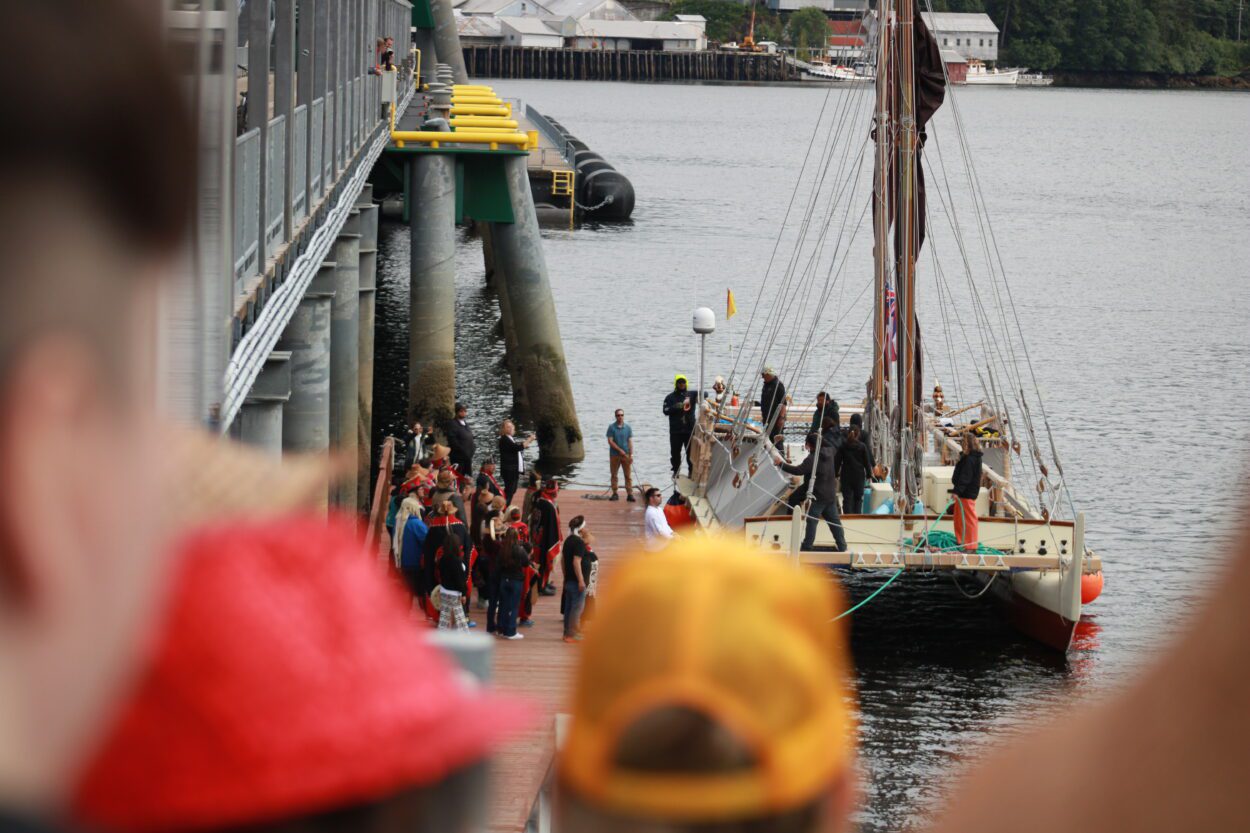 The traditional voyaging canoe Hōkūle'a arrived in Ketchikan on Saturday, marking yet another stop on its global journey celebrating the ocean and Indigenous knowledge. The voyagers were met with speeches, gifts, dancing and celebrations that lasted the whole weekend.
A crowd of people clad in regalia, traditional robes and cedar hats crowded around the water at the old mill building in Ward Cove, hoping to catch a glimpse of the Hōkūle'a's twin hulls as they carved through the water. Ketchikan is one of the last Alaska stops of the canoe's Moananuiākea journey, which kicked off earlier this summer. 
The Polynesian Voyaging Society canoe and its guide vessel pulled up to the dock just after 4 p.m. Saturday, after being delayed a day leaving Wrangell due to poor weather. Drumming and dancing rippled through the crowd as the canoe came to the dock, and kids ran along the waterfront with drums. Energy was high when tribe leaders made their way to the dock for a traditional greeting.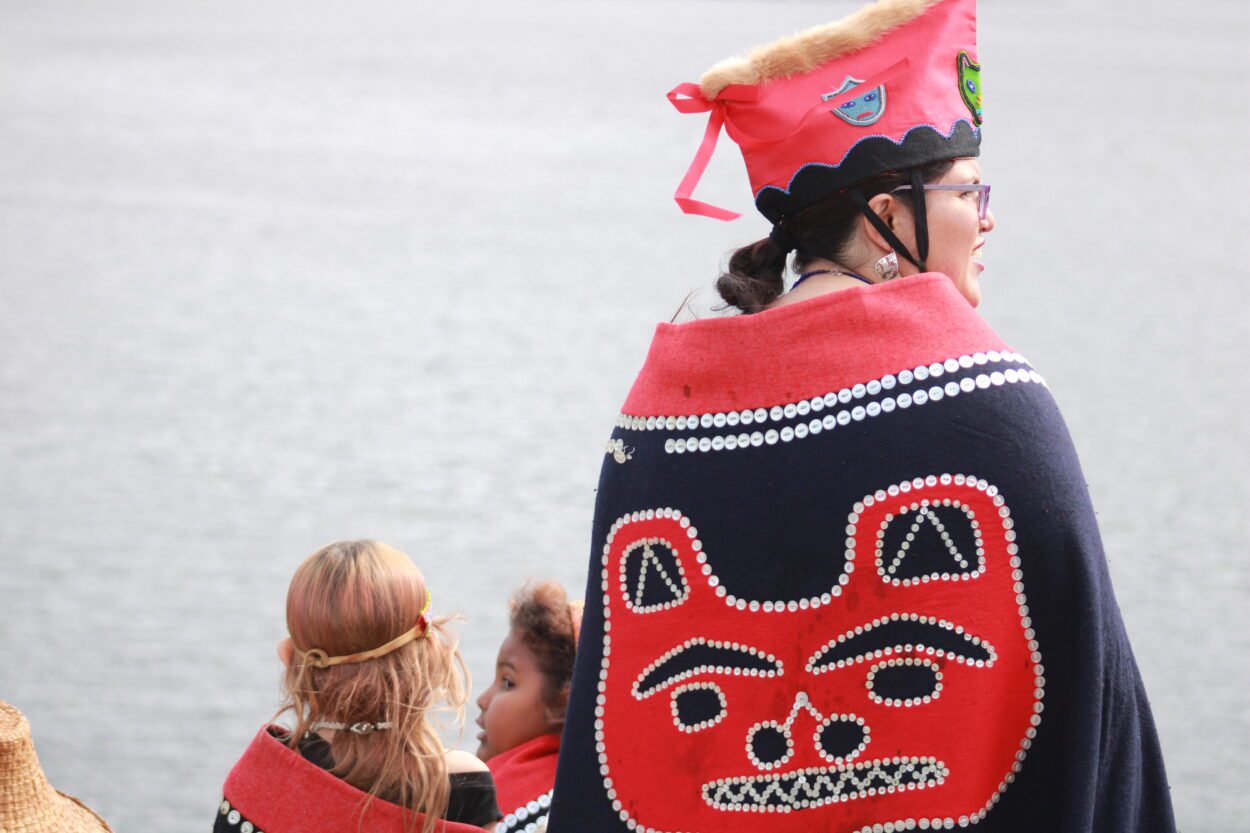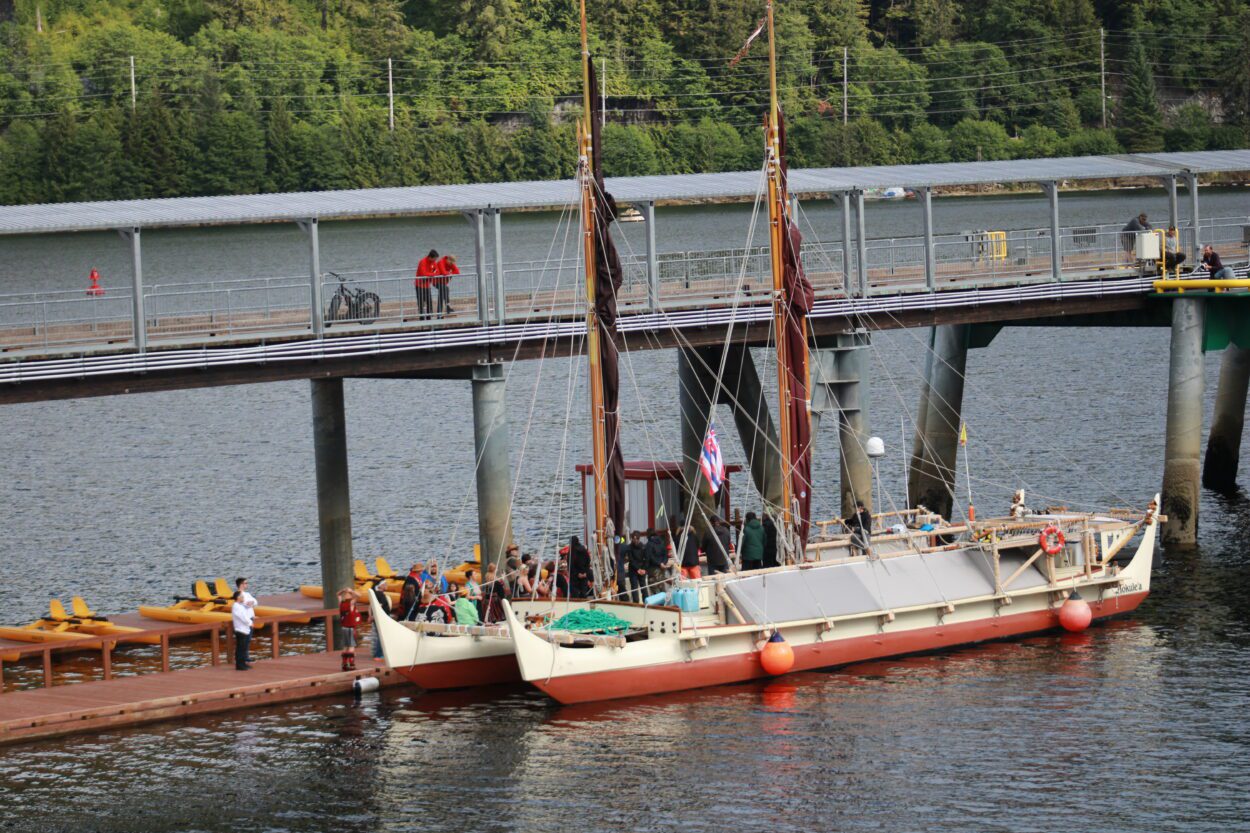 Nathan Jackson and Richard Jackson asked the crew what their purpose in Ketchikan was.
"We are the voyaging canoe Hōkūle'a. We come from Hawaii, we come to your land," a crewmember responded. "We ask for permission to enter your waterways, to spend time on your lands, to share and learn from your culture, as well as to share and learn from us, our culture and our way of life. We respectfully ask for permission to enter your beautiful lands and your waterways."  
The voyagers were granted permission to dock. Richard Jackson, a leader from the Brown Bear Clan (Teikweidee) of the Taanta Kwaan, gave them a warm welcome.
"We're happy to see you. We know your voyage here is about ecology, it's about worlds," Richard Jackson said. "It's about learning about the Earth. It's about navigation, which I commend you upon doing this, because we are navigators."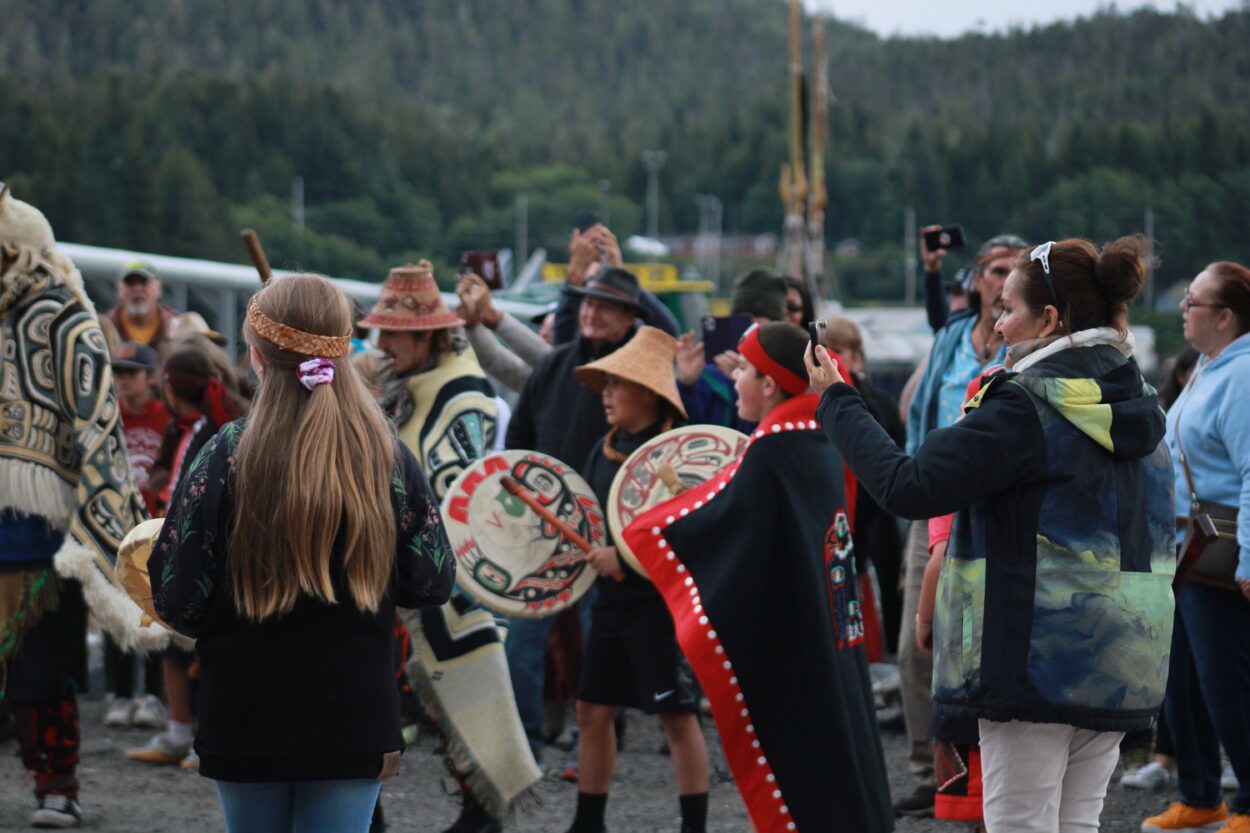 Jackson told the visitors about the recent launch of a canoe by Ketchikan's federally recognized tribe. He spoke about how the two cultures are united by the ocean. He also shared memories of Judson Brown, a Lingít man who helped the voyaging society find trees for a canoe. Judson Brown is also the grandfather of Richard Jackson's wife, Janice. 
"Lingít means the tideland people. So we live off the sea," Jackson said. "And we know, and I know having been in the service and served on Alaska state ferries, that you have to be a team to go. You have to go with the captain, but you all together, you hold each other's backs. During the good times. During the hard times, and during sometimes the mournful times, you do it together. That's how you're trained and I'm really glad that you made it here safe."
Before the crew came ashore, tribe members sang a special song. It's called "The Bear Rises Up," and it was written by Lingít elder Esther Shea — Richard Jackson's mother. 
The song is about celebrating culture, even after colonization — like a bear coming out of hibernation.
"So you have to come back later on and look at it and say, 'Well, we have a culture – our  box of knowledge is still there and never went anywhere. So we need to use it,'" Jackson said.
It's also about coming together. Jackson emphasized how happy he was that the canoe made it safely to Ketchikan, and that it would continue on to Metlakatla and Prince of Wales Island.
Chuck Denny, the vice president of the Organized Village of Saxman, also gave brief remarks to welcome the crew.
Mark Ellis is the captain of the Hōkūle'a.
"We are very grateful for this warm welcome, very grateful for the opportunity that we have to come here," he said. "We're grateful that Hōkūle'a could travel most recently from Wrangell (to) here in safety."
There was more dancing and singing as the crew and tribe leaders made their way up from the dock at the end of the ceremony. Later in the evening, at a celebration in Saxman, the crew was laden with gifts. There were blankets, painted dance paddles, hand-beaded octopus bags, woven wristbands and beaded necklaces, and more.
Before she was whisked away to Saxman for dinner — and gifts and dancing — Lehua Kamalu shared a little bit about her journey.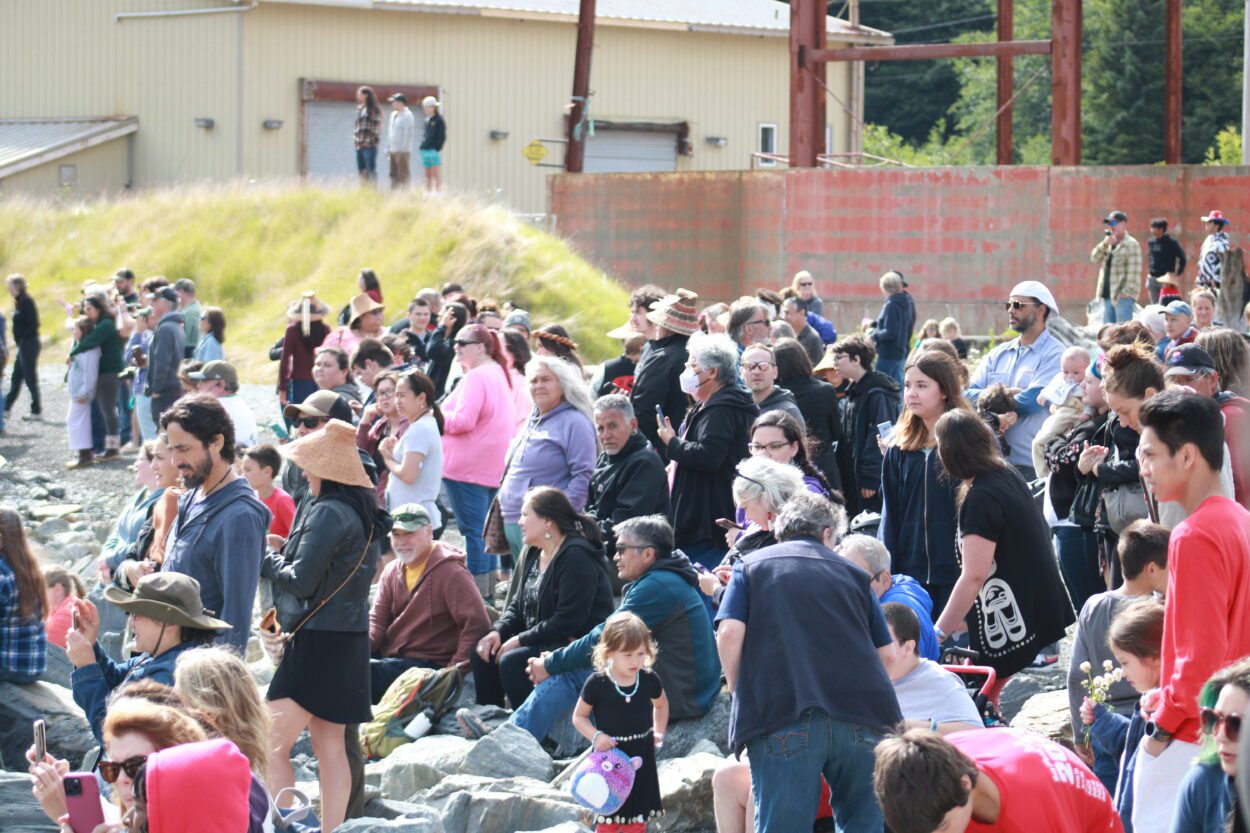 She remarked on how it's different to sail in Alaska.
"It's been an experience as we learn that it's sunny in the morning, it can still be cold, freezing rain in the afternoon," Kamalu said.
She said life on the canoe is simple, and full of teamwork.
"There's not a lot of enclosed space, there's no heaters, or anything," she said. " So everything's, you know, everyone puts in a lot of work to sail the canoe. And they come here as a labor of love. They're all volunteers with big hearts. And so we just have a wonderful time trying to survive the elements of Alaska and get to where we're going without hitting anything."
Lucy Lee, another crew member, had a personal connection to Ketchikan already.
"My dad actually comes up to Ketchikan every now and then to go fishing so I'm just looking forward to you know, thinking about stories he's told me and seeing what feels and looks familiar," Lee said.
This actually isn't the first time the Polynesian Voyaging Society tied up in Ketchikan. Gloria Burns is Ketchikan Indian Community's vice president. She remembers when Polynesian Voyaging Society first visited, which was more than 20 years ago. She said this time was different. 
"We're excited to welcome those people back to our area and the last time they were here and they landed in Saxman, we were just small," Burns said.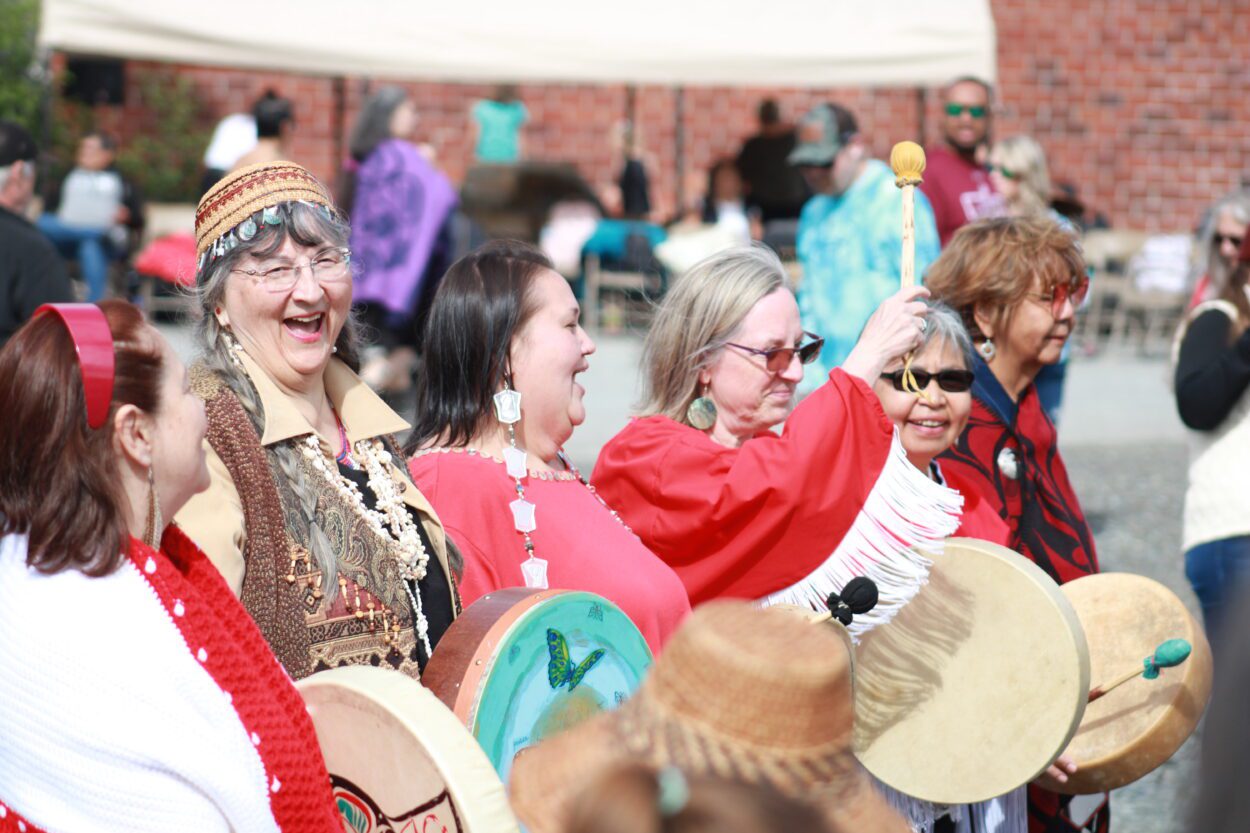 And at the end of the day, Burns said it's all about welcoming another Indigenous culture to the island.
"We just acknowledge that everything is in the creator's time," Burns said. "And so we're just, you know, enjoying the tide and the waves and, you know, and all of the energy and, and that's what we're gonna do."
The Hōkūle'a left Saxman for Metlakatla on Monday afternoon. After spending some time in Metlakatla, they'll sail into Hydaburg and visit communities all over Prince of Wales Island. 
Raegan Miller is a Report for America corps member for KRBD. Your donation to match our RFA grant helps keep her writing stories like this one. Please consider making a tax-deductible contribution at KRBD.org/donate.