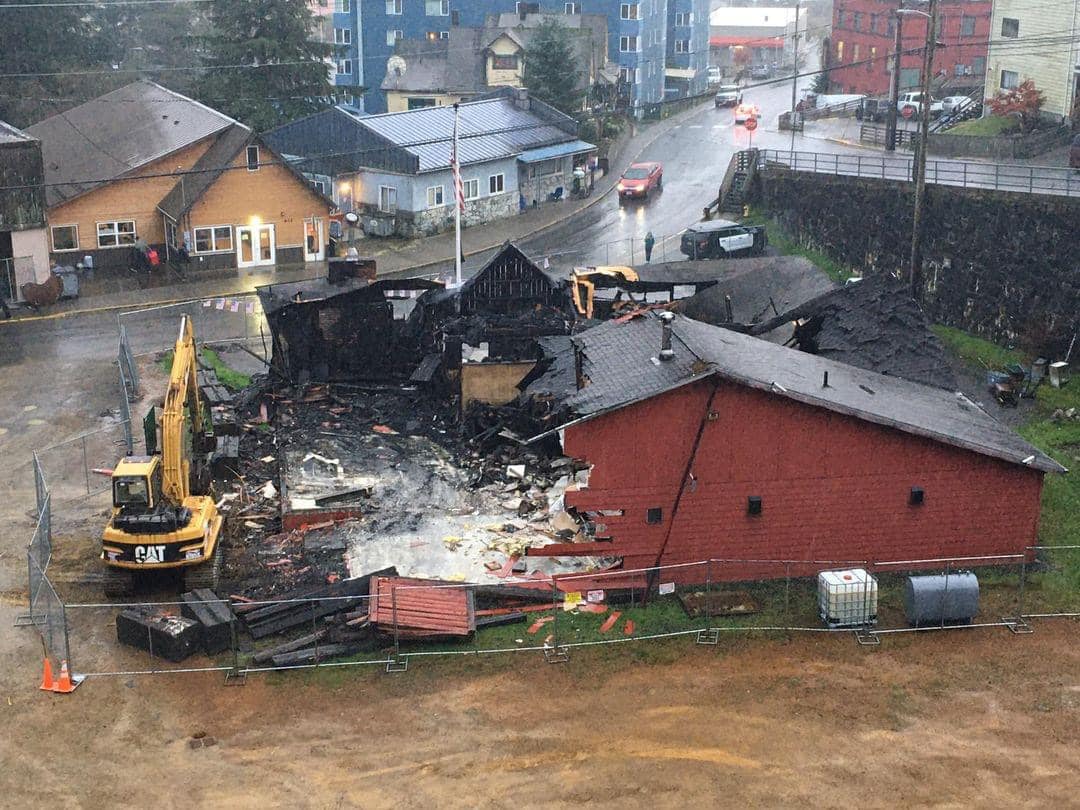 Ketchikan said goodbye this weekend to a beloved building. The scorched remains of the American Legion Hall downtown were demolished after a catastrophic fire.
It took a bulldozer nearly multiple days to remove the charred debris and the corner of the building that survived the September fire. An onlooker said it was painful to watch. 
City of Ketchikan spokeswoman Kim Simpson said in a statement that the building was the "heart of the community in location, history and availability for fundraising and other events beyond the Legion." It was also the first American Legion post in the state of Alaska. 
Joseph Schacher Jr. is accused of setting the fire. He is charged with first-degree arson and reckless endangerment. 
Schacher's sister, Ivy Smith, said the fire is a tragedy, and so is the lack of mental health resources in Ketchikan. She said Schacher suffers from mental illness and had tried to get treatment on multiple occasions.  
Hours after the demolition began on Saturday, members of the Ketchikan American Legion were at the Ted Ferry Civic Center to receive the Alaska Airlines exemplary community service award.
Former Alaska Commander of the American Legion Hunter Davis teared up as he spoke to the packed crowd.  He said they'll rebuild and when they do, they will welcome the community through their doors as they always have. A fundraising campaign on GoFundMe.com is aimed at helping rebuild the American Legion Hall. The fundraiser asks donors to "Please help Ketchikan rebuild what took Veterans generations to build."
Schacher is currently being held in Anchorage awaiting trial. It's set for January 8 in Ketchikan.