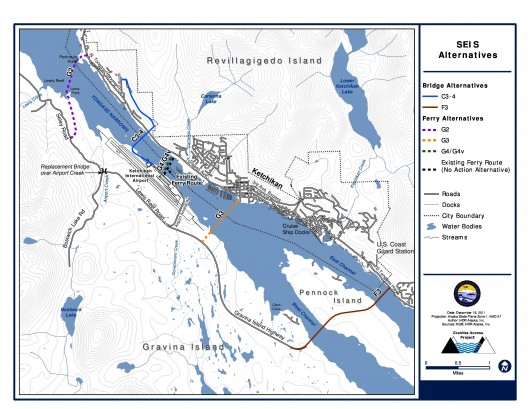 An open house and public hearing on the state's newest Gravina Access study is set for Wednesday at the Ted Ferry Civic Center. The open house will be 11 a.m. to 5 p.m., and will provide information about the various proposals. The public hearing — starting at 5 p.m. — will offer time for input and comments.
The state released the Supplemental Environmental Impact Study last month, and the public comment period runs through Aug. 13th. The options include two bridge designs and four ferry plans. The bridge options each cost more up front to build, but in the long term would be less expensive than any of the ferry options. In fact, over the lifetime of each alternative, the study shows that a bridge would cost less than doing nothing to change the current system.
The project to improve transportation between Ketchikan's Revillagigedo and Gravina islands has been an ongoing topic for many years. It appeared at one time that a bridge would be built, when a federal earmark was approved for the project.
However, in response to a national backlash against earmarks in 2007, then-Gov. Sarah Palin stopped that project, nicknamed the Bridge to Nowhere, and directed the Department of Transportation to find a cheaper alternative.
In the newest study, one of the bridge options crosses Tongass Narrows north of the city near the Wal-Mart access road. The second bridge option south of the city includes two spans, the first crossing from Revilla to Pennock Island, and then from Pennock to Gravina.
The ferry options offer new ferries and new terminals at various locations, such as Peninsula Point and The Plaza. All the ferry options include new waiting facilities, restrooms, improved parking and shuttle vans.
To see the full study, go to http://dot.alaska.gov/sereg/projects/gravina_access/