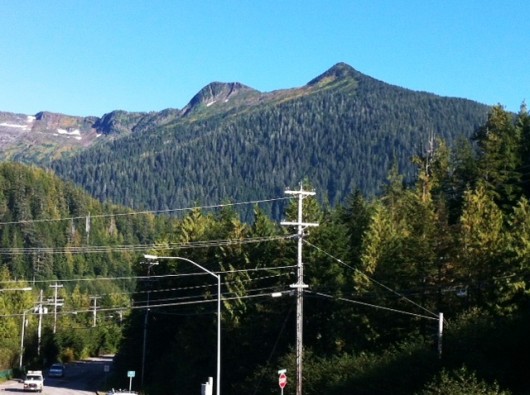 A San Diego woman hiking on Deer Mountain was rescued by helicopter late Monday afternoon.
A 911 call came in at about 1:00 pm from a man reporting that his hiking companion, 42-year-old Diane Wong, had broken her leg.  The man requested assistance and gave troopers the GPS coordinates of where the two were located. Troopers then contacted the Ketchikan Volunteer Rescue Squad, which deployed rescue crews to the area.
Chris John, spokesman for KVRS, says the hikers – both tourists – reported their location was near the second lookout.  John says crews normally are deployed from the trailhead, but because the second lookout has a good helicopter landing site, the team decided to implement a helicopter rescue.
John says the Ketchikan landfill provided a nearby helicopter landing site and was used as the staging area.  He says this is the first time the landfill has been used for a helicopter rescue.
Along with the pilot, two teams of two assisted in the rescue.  Crews stabilized Wong and transported her to Ketchikan Medical Center at approximately 4:30 pm.
Jerry Kiffer of KVRS says the tourists had arrived on one of the visiting cruise ships and had picked up a SPOT locater beacon before heading out.  When activated, the beacons send out a signal monitored by KVRS and are available for free day-use at the Ketchikan Visitors Bureau.  Kiffer says by activating the beacon, the hikers were located within minutes, cutting at least 40 minutes off of the rescue time.