The Alaska Marine Highway announced Tuesday that the MV Kennicott's schedule will experience some delays starting Dec. 30th because of tides and currents.
According to the announcement, the Kennicott will leave Bellingham, Wash., on schedule on Dec. 30th, but will be about three-and-a-half hours late arriving in Ketchikan on Jan. 1st.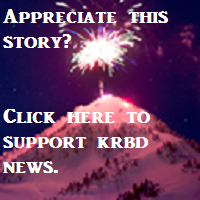 The ferry should arrive here at around 9:30 a.m. that day.
The ferry then will be delayed leaving Ketchikan, as well. It will depart at 4 p.m. on New Year's Day, eight-and-a-half hours later than originally scheduled.
The Kennicott also stops in Wrangell, Petersburg, Juneau, Haines and Skagway. Passengers with reservations will be contacted and notified of the schedule changes.
Below is the entire revised schedule for Dec. 30 through Jan. 3rd , according to the AMHS.
12/30 – 4:00 p.m. Depart Bellingham  (as originally scheduled)
01/01 – 9:30 a.m. Arrive Ketchikan  (3.5 hours later than originally published)
01/01 – 4:00 p.m. Depart Ketchikan  (8.5 hours later than originally published)
01/01 – 9:45 p.m. Arrive Wrangell
01/01 – 10:45 p.m. Depart Wrangell
01/02 – 2:00 a.m. Arrive Petersburg
01/02 – 2:30 a.m. Depart Petersburg
01/02 – 10:15 a.m. Arrive Juneau
01/02 – 11:00 a.m. Depart Juneau (depart 5.25 hours late)
01/02 – 3:30 p.m. Arrive Haines
01/02 – 4:00 p.m. Depart Haines
01/02 – 5:00 p.m. Arrive Skagway
01/02 – 5:45 p.m. Depart Skagway
01/02 – 6:45 p.m. Arrive Haines
01/02 – 7:30 p.m. Depart Haines
01/03 – 12:00 a.m. Arrive Juneau
01/03 – 1:15 a.m. Depart Juneau (as originally scheduled)