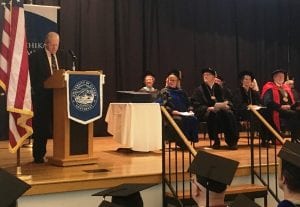 University of Alaska Southeast Ketchikan Campus will honor 16 graduates during its annual commencement celebration on May 4.
The event starts at 2:30 p.m. at the Ted Ferry Civic Center, and is open to the public.
According to an announcement from UAS Ketchikan, this year's commencement speaker will be AJ Pierce. Pierce is executive officer of Southern Southeast Alaska Building Industry, and is a Ketchikan Gateway Borough Assembly member.
Also participating in the graduation ceremony will be UAS Chancellor Rick Caulfield, Provost Karen Carey, Vice President of Academics, Students and Research Paul Layer and Regent John Bania.
The graduates are:
Leah Canfield, master's in social work;
Adam Krick, master's in education and educational leadership;
Taylor Helland, graduate certificate in secondary education;
Margaret Baca and Andria Michaels, bachelor's in elementary education;
Cynthia Bashaw, bachelor's in social science;
Gabriel Duckworth, bachelor's in social work;
Orin Pierson, bachelor's in liberal arts, interdisciplinary studies;
Sidney Hartley, Erica Nickich and Caila Rodriguez, associate of arts;
Rhea Bromley, Angela Heck, Brehanna Johnson and Sarah Wright, associate of applied science in business administration; and
Trenton Young, associate of applied science and certificate in health information management.