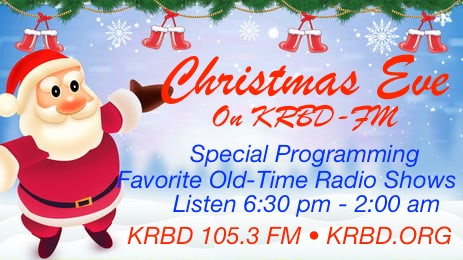 KRBD is hosting an evening of old-time radio classics for Christmas.
Join host Bob Kern for this special programming starting at 6:30 PM on Christmas Eve and running until 2 AM on Christmas Day.
Businesses and individuals can underwrite the evening's programs. Just $50 to sponsor a half-hour show, and $75 to sponsor a one-hour show. Call 907-225-9655 or 800-557-5723 by Thursday 12/23 if you would like to sponsor one or more of these programs.
Here's the lineup of the evening's shows:
6:30 PM – The Jimmy Durante Show (12/24/48)
7:00 PM – The Jack Benny Show (12/24/44)
7:30 PM – Truth Or Consequences Christmas Show (12/20/47)
8:00 PM – Fibber McGee and Molly (12/16/47)
8:30 PM – The Bob Hope Show – Guest Frank Sinatra (12/11/53)
9:00 PM – The Judy Canova Show (12/21/46)
9:30 PM – The Edgar Bergen/Charlie McCarthy Show (12/18/55)
9:50 PM – A Ketchikan Night Before Christmas – Jack Finnegan
10:00 PM – Jean Shepherd and The Boy Who Wanted a BB-gun for Christmas (aka A Christmas Story)
10:30 PM – The Horace Heit Show
11:00 PM – It's A Wonderful Life with Jimmy Stewart and Donna Reed (3/10/47)
12:00 AM – The Great Gildersleeve
12:30 AM – Kraft Music Hall with Bing Crosby
1:00 AM – The Fabulous 50s Christmas Show – Snowbound in England