School-age children can submit artwork highlighting their favorite things about Alaska for Alaska Airlines' new "paint the plane" contest.
Students across the state have until Oct. 28th to submit their art. According to an Alaska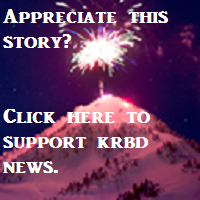 Airlines announcement, the company will use as many submissions as possible when designing the paint theme for a cargo plane that will primarily serve Alaska.
This will be the second plane painted with artwork submitted by Alaska children. The first was designed by Hannah Hamburg, then a 16-year-old Sitka student.
The plane with her drawing was introduced in 2009 to celebrate 50 years of statehood, but it was taken out of service this summer.
Students who submit artwork also will have a chance to win prizes. Rules and entry forms are available at www.painttheplane.com.
The new design will be revealed in December, according to Alaska Airlines, and the new plane will be unveiled next spring.