A 42-year-old Ketchikan man was arrested and charged Friday with first-degree murder and tampering with evidence for allegedly killing 55-year-old Richard Branda on Thursday evening.
Joshua Kenneth Bliss had his first court appearance over the weekend. Bail was set at $250,000, and a public defense attorney was appointed to represent him.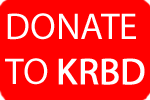 Some details into the alleged crime were available in a complaint filed in court by Ketchikan Police Sgt. Mike Purcell. He writes that police received a call at about 11:30 Friday morning reporting a man apparently asleep off to the side of Water Street.
Purcell writes that police found Richard Branda dead with a large stab wound on the right side of his neck. The complaint states that the wound was about two inches long, and there was a large pool of blood under Branda's body.
The complaint states that Bliss called the police station later on Friday to report his involvement. Police say Bliss told officers he had stabbed Branda in the neck on Thursday evening during an argument. Bliss also allegedly told police that he threw the knife he had used into the ocean the next day.
Bliss' next scheduled court appearance is 9 a.m. Friday in Ketchikan District Court.